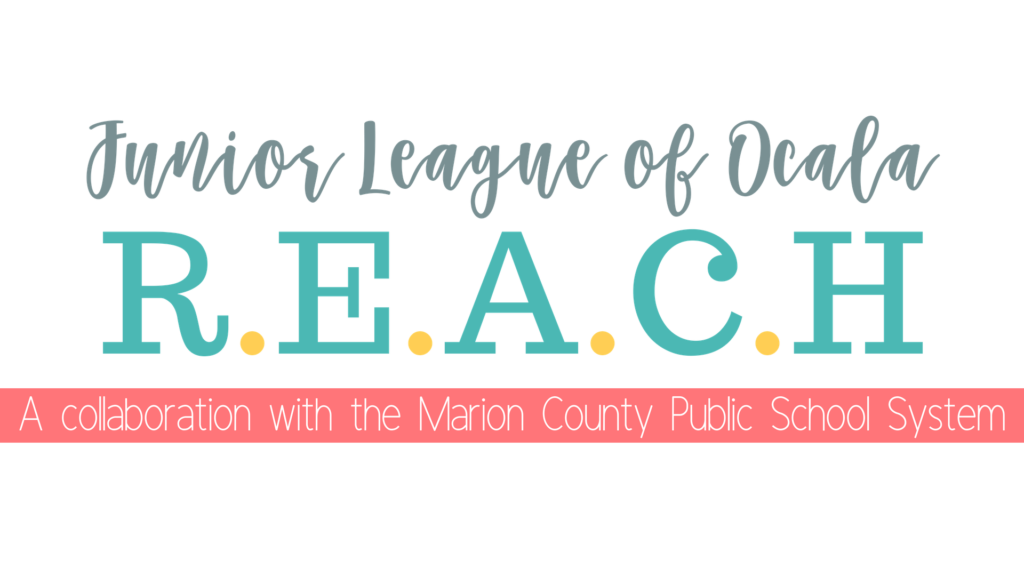 Beginning in the 2018-2019 league year, we introduced our new Community Impact project, R.E.A.C.H. and piloted the program at Oakcrest Elementary School.
R.E.A.C.H. is a Junior League of Ocala initiative where the Junior League of Ocala focuses its time, talent, and treasure on helping underprivileged students achieve greatness.
R – Reading Skills
E – Engaging Parents
A – Advancing Achievement
C – Classroom Support
H – Healthy Choices
2018-2019 Accomplishments:
445 backpacks + uniforms were passed out at the Oakcrest Back to School Bash, and the kids loved them.
They were so excited to pick out the color of their new backpack, and every student was gifted a new uniform shirt.
Purchased 5 buddy benches to foster inclusion and kindness in the students.
Purchased extra-large blocks from Imagination Playground for the kids to build with and climb on during recess. With no playground equipment at school, this will be really fun for the students and get them moving.
Provided two stocked and decorated Little Free Libraries with 135 new books.
Sent 45 copies of the Sunshine State Young Reader Award-winning books to the media center for the students to check out and enjoy.
Sponsored several "Book Tastings" in the Oakcrest library where we transformed the library into a restaurant and served books on platters to the students who had 10 minutes to get a "taste" of each book as a way to get exposed to new reading material.
Collected recess equipment and even started an Amazon Wish List where community members could help us R.E.A.C.H. our goal by purchasing an item that was sent directly to Oakcrest.
Helped host a Hungry Caterpillar themed Pancakes for Literacy Breakfast.
Created 200 Take Home Science Craft Kits for the kids to take home and complete with their families.
Started a Lunchtime Reading Program for third-grade students that occurred on Tuesdays and Thursdays.
2019-2020 Accomplishments:
300 uniform shirts were donated to Oakcrest Elementary School students
Outfitted a resource room at Oakcrest known as "The Nest" with new paint, shelving, school supplies, and clothing
Purchased 250 books, one for each 4th and 5th grader
Purchased 3 copies of every state standard for Oakcrest Elementary (87 in total)
Collected 45 alarm clocks to help Oakcrest and Evergreen students arrive at school on time from our "DIAM" (Done in a Meeting) program
Collected 25 pairs of shoes for The Nest from our DIAM program
Created a "Maker's Room" at Evergreen Elementary
Purchased 400 books for the Evergreen students and wrote inspirational quotes in the books